Skyfri is a top Scandinavian Renewable Energy Startup to Follow in 2023
9th December 2022
The renewable energy startups are hot for a reason (so we can cool down the climate). And Scandinavia has some of the most interesting ones — see our 8 picks to follow in 2023.
The renewable energy sector is booming. Once a niche segment of the broader energy industry, it is growing rapidly and becoming an important source of energy in many regions and countries around the world. Renewable energy is clean energy derived from natural sources that are replenished at a faster rate than they are consumed. Such sources include sunlight, wind, water or biomass and are ubiquitous all around us. Generating renewable energy and abandoning coal, oil, and gas results in much lower greenhouse gas emissions and less pollution.
The Scandinavian countries are among the world leaders in renewable energy and its efficiency there has been steadily increasing over the past decade. Norway alone has more than 49% of its electricity generation from renewable energy – mostly from water – and Sweden has more than 50%. While the general idea of renewable energy is fairly consistent ideologically, the types of projects vary widely depending on the technology and business model.
We present our list of the top 8 Scandinavian renewable energy startups. Despite taking different approaches to innovation in the clean energy industry, they are all exceptional companies worth following.
Svea Solar
Svea Solar, founded by entrepreneurs Björn Lind and Erik Martinson in Stockholm, provides green energy and uses solar power. Their product range includes solar panels, solar chargers, and solar generators that can be connected to the Svea app. The solution provides an overview of everything that works together.
The app allows homeowners to gain full control over energy production and consumption. The app's optimization features, such as reading electricity prices a day in advance, charging vehicles at the cheapest hours or selling excess solar power back to the grid if the price goes up, have a huge impact on saving money on monthly energy.
Svea Solar is one of the leading solar companies in Europe, with local offices in Sweden, Spain, Germany, Belgium and the Netherlands. Their innovative and accessible solar solution contributes to reducing CO2 emissions.
Skyfri
Skyfri is a cleantech company based in Oslo, Norway. It provides owners of photovoltaic assets with an advanced digital platform that has a significant impact on maximizing production and reducing costs. Their vision is to make solar energy the most accessible, smartest and cleanest source of energy. Their autonomous and integrated software is used to monitor and manage the performance of renewable resources in real time. The company is described as one of the fastest growing climate technology companies in the world.
Founded in 2021 by Petter S. Berge, Murshid M. Ali and Pratik Ghoshal, it has raised $11.5M in funding. Besides Oslo, Norway, it also has offices in Calgary, Hyderabad, Singapore, London and Denver.
Shoreline Wind
Shoreline is a SaaS platform for wind power plant simulation and workflow management. The Norwegian company provides full lifecycle simulation and optimization solutions for project development and field operations management for wind power assets. Shoreline's solutions give users the ability to use planning, asset management, optimization and reporting applications to optimize production/revenue while reducing costs.
The Shoreline concept was invented by Norwegian engineer Ole-Erik Vestøl Endrerud and has become the most recognized industry leader in SaaS solutions for renewable wind energy. The company is headquartered in Stavanger (Norway), Palo Alto (USA), Esbjerg (DK), Hamburg (DE), London (UK) and has a representative office in Seoul (South Korea).
Agreena
Agreena is a Danish startup supporting farmers' transition to regenerative agriculture by culling, verifying, and selling the carbon credits they generate. The company's offering combines a vertically integrated technology solution with deep knowledge of sustainable farming practices. By registering their fields, farmers receive counseling on transitioning to regenerative practices and receive CO2e certificates with the option to sell them to companies that want to buy carbon credits from them, either on their own or through the Agreena platform. In this way, buyers gain the ability to track sponsored CO2 reductions.
Founded in 2018 by visionary farmers and fintech experts, the company now serves farmers in fourteen countries.
Bright Energy AB
Bright is a Swedish company that has developed a digital platform for the energy sector. Their vision is to digitize the energy industry with a smart digital platform that energy companies can offer their customers. It allows household owners to avoid using electricity during peak hours. The solution helps power companies bring all their services together in the same application/platform for users to understand, control and manage their electricity consumption, costs and environmental impact, as well as equalize the load on the power grid.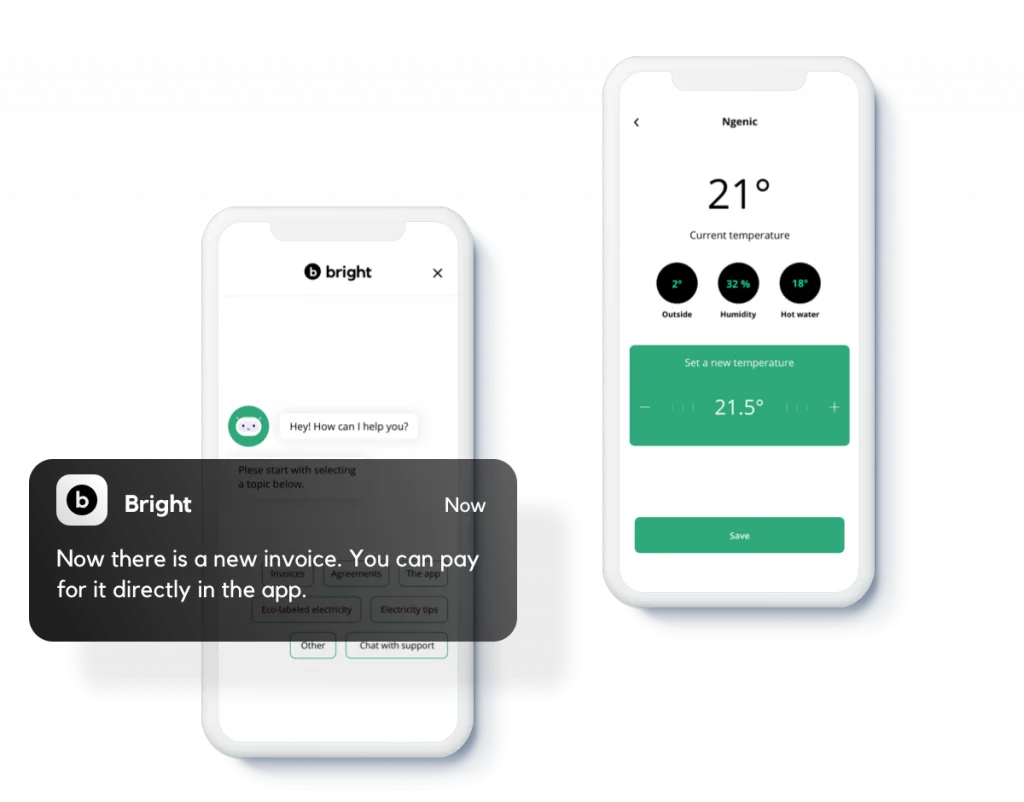 Source: BrightEnergyAB
Dockstr
Dockstr is the most technically advanced online marketplace for equipment sales and divestment for the marine, construction and energy industries. It enables optimization of resources and business offerings using a combination of digital intelligence and market understanding. To reach more customers around the world, they combine traditional network sales with digital technology.
Founded by Slimane Bouabbane and Scott Macknocher in 2017, the company has brokered the purchase or sale of nearly $100 million worth of assets on 6 continents.
FREYR Battery
FREYR Battery, a Norwegian startup offering clean battery solutions to reduce global emissions. The company designs and manufactures advanced 32+2 GWh lithium-ion cells that accelerate the decarbonization of energy and transportation systems around the world. Their batteries support stationary energy storage, electric mobility, marine and aviation applications around the world.
FREYR's goal is to produce environmentally friendly battery cells as part of a business model aimed at maximizing long-term value creation and delivering sustainable and increased customer profits.
The Norwegian company plans to produce 43 GWh of battery cell capacity by 2025, and then increase annual capacity to 83 GWh by 2028. Founded in 2018, FREYR Battery has raised $604.4M in funding.
ALGIECEL
Danish company ALGIECEL's mission is to convert CO2 emissions and LED light from today's production processes into microalgae biomass and oxygen. Their innovative revenue-sharing CCU business model offers carbon capture as a service to industrial customers such as biogas plants, digesters and power plants.
ALGIECEL was founded in mid-2021 by Henrik Busch-Larsen, who also co-founded Unibio, a leading sustainable protein company, and in early 2022 received funding of about DKK400K ($525K) from the Danish Innovation Institute to build a pilot photobioreactor unit.
To sum up
Renewable energy startups are booming with innovation driving down the energy costs. Startups and fast-moving companies begin to deliver on the promise that clean energy and the well-being of the planet is the key to the future.
Scandinavia is firmly at the forefront of the energy transition, not only by keeping carbon emissions low, but also through an ambitious market-based government framework focusing on energy efficiency and the development of renewable energy farms. Therefore, it is important to seek out and pay attention to the revolutionary and groundbreaking ideas of promising startups that are on their way to becoming an integral part of our transition to renewable energy.